3333 S. Wadsworth Blvd.
Suite 125
Lakewood, CO 80227
VP, Organizational Development & Marketing
Company Established In
2006
HOURS OF OPERATION
7am-5pm M-F
CATEGORIES & HEADINGSdetails >>
Tradavo unlocks the value in hotel lobbies by enabling a significant revenue stream for owner/operators and creating a memorable lobby destination for guests. Hotel lobby retail, operated by hotel associates, can be a big win for guests and owners -- or can deliver only marginal value when underutilized and not properly managed. Bringing extraordinary value exclusively to the hotel and lodging industry since 2006, Tradavo deploys proven solutions to:

- Create, design and/or optimize lobby retail stores to reflect brand voice, destination and guest profile
- Increase TRevPAR through creative visual merchandising, category management, product selection, and pricing
- Reduce hotel labor and streamline operations through technology, logistics, and best practices

Serving over 2,000 hotels throughout North America, Tradavo enables success for owner/operators across brands and independents, from midscale through luxury.

Product Showcase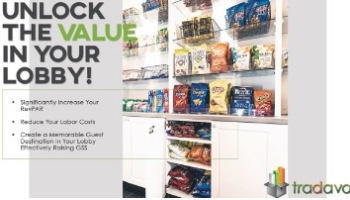 YOUR BUSINESS IS HOSPITALITY. OUR BUSINESS IS RETAIL.
Do what you do best and let Tradavo be your partner in Retail Management. A well-managed hotel pantry can generate the equivalent of 2-6 additional occupied rooms per night and drastically increase your guest satisfaction and return rate. We design, merchandise, purchase, price, train and consult on all things hospitality retail. Stop losing money on that extra square footage in your lobby. read more